Croft Circuit in North Yorkshire hosted the final round of the Power Maxed Swift Rallycross Championships, where in another bumper-entry for the single make Swift category, 2014 champion Tristan Ovenden claimed pole position for the A final and led the last race of the year from lights to flag to retain his championship title in style.
Tristan Ovenden gave a dominant drive in final to take the win
No less than 16 Swifts took to the circuit at the Croft event, where the Swift championship were pleased to give a warm welcome to Rob Pickard, who had initially hoped to race at Pembrey earlier in the year but was ruled out by poor health, motocross team owner Matt Hutchins and Sunderland racer Gary Mitchell.
With a committed first corner charge from the Hawkes Fire driver Andrew Hawkes, he celebrated the B final win after a close race with fellow local driver David Ellis, driving the Sayers Road Tankers Swift. Former autograss and circuit racing driver Gary Mitchell made his Swift Sport debut in a Peter Gwynne Motorsport hire Swift and starred at his home event, just missing a place in the A final finishing second in the B final to Hawkes.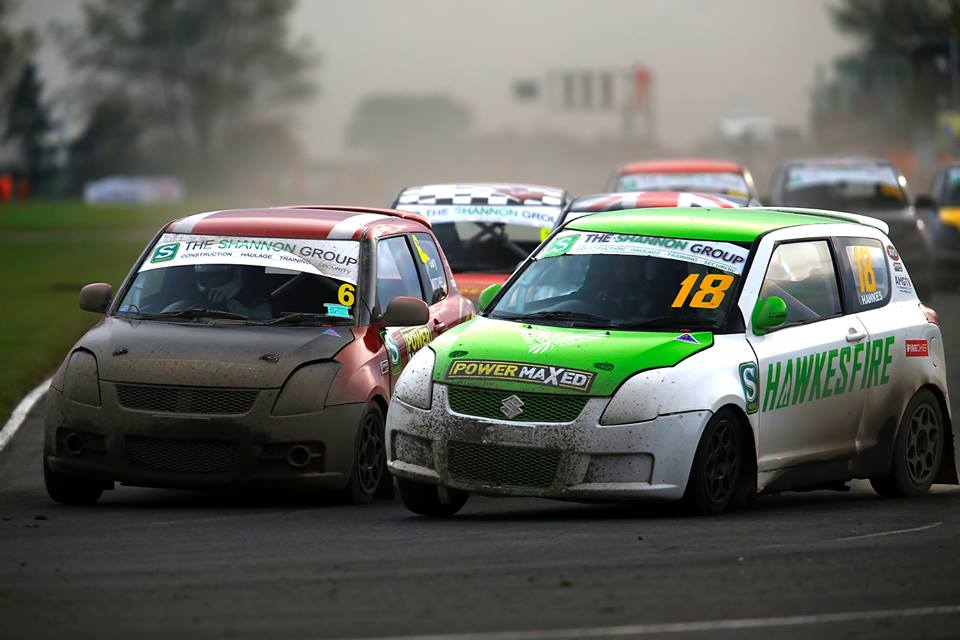 Andy Hawkes committed into the first corner alongside newcomer Gary Mitchell
Aiden Hills and Darren Scott, who both finished on the podium at the previous round at Lydden Hill, joined Canterbury Crusader Ovenden on the front row for the final but were unfortunately ruled out of contention by contact in the final leaving Ovenden to line up alone of the front row of the re-run. Countrystyle Recycling driver Nathan Heathcote and former Junior Swift racer Jake Taylor battled for second during the early stages of the final, both scoring their personal best results with second and third respectively. Mondello Park victor Jack Brown, from Barnsley, challenged Taylor for the final podium on the fourth lap of the final but ended up wide at the circuit's loose surface hairpin, dropping to fifth behind Kent driver Rob Maynard, competing in the orange Swift affectionately know as Maud.
Whilst not making it to the podium, Brown still had reason to celebrate having set fastest time of the day for the swifts claiming 2 bonus points and despite not completing heat two, being on the pace in the other heats rewarded him with an automatic A final start.